Welcome to our section of the store where you can get all the "tech" you need to make your music learning experience as smooth and effective as possible. Whether you are setting up your Jam Zone (the spot where you "practice") or looking to record your music using an iPad, this is the spot. Have fun browsing and remember, when you get any of these products we'll give you a 40 minute FREE online lesson to show you how to set it up and use it, whatever it is 🙂
iPad Mini 4
The iPad really has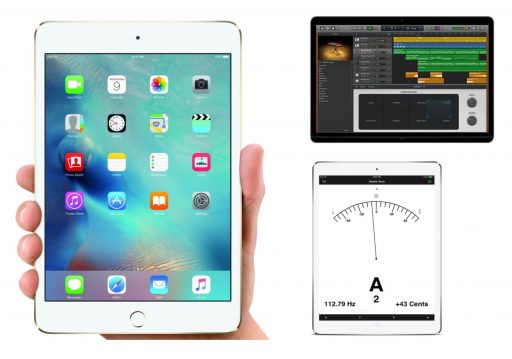 become the ultimate music tool, and the iPad Mini is even handier and just as powerful. Imagine one device that you can use as a tuner, a metronome, and access your lessons here at JamAlong! Yep, more and more of our students are using tablets to watch our videos, and the iPad is the king of tablets. With the latest A8 chip with second-generation 64-bit desktop-class architecture, the Mini 4 is a beast that can handle even your most demanding software and music apps.
If you're into recording performances and jam sessions, this iPad comes equipped with  panorama view, time‑lapse video, slo‑mo, and burst and timer modes. The front‑facing HD camera has been redesigned, too, with a refined sensor and larger pixels for even better low‑light performance. The upshot? All your photos and videos — and video calls for JamAlong live lessons — look incredibly clear and lifelike.
And the best part about having an iPad is that there are hundreds of music apps available now, like Garage Band which allows you to use your iPad like a multi-track music studio! That's right, you can record full albums or make your own play-along practice tracks, all on your iPad Mini 4. You can also download all your music charts and TAB for jamming, so you'll have everything you need right on your iPad and never need to carry around binders and books to jam sessions.
For more info on music apps you can get, click HERE, and don't forget we'll give you a FREE online lesson on how to use any of these apps. Get the most powerful music tool you'll ever have, today!
Laptop – Apple MacBook
When you're ready to step up to the next level, the Apple MacBook Pro is the universally accepted laptop computer for musicians. First, this amazing device has dual built-in microphones so that all your recording will have crystal clear sound, and when you have a live online music lesson with us we'll be able to hear every note you play! And when you are listening to music (or your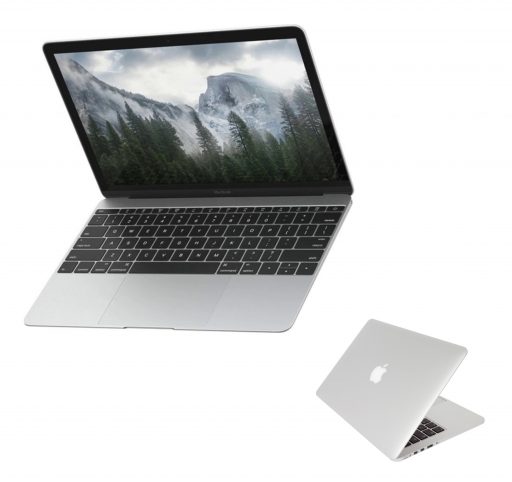 JamAlong lessons) the speakers in this computer are the best you can buy, it will sound like a home stereo. And as far as the visuals, it is unmatched. The pixel density is so high, your eyes can't discern individual pixels, and images take on a new level of realism. The Retina display reduces glare while maintaining incredible color and quality, and the "high contrast ratio" results in blacker blacks and whiter whites, great for reading sheet music and TAB. And the programs you can run on this computer are a musicians dream, from recording to video to photos, you can pretty much do anything. Among lots of other goodies, it comes with the super-easy to learn recording program Garage Band, which we will help you with every step of the way. You can record yourself playing chords, and then record a lead part, and then another lead, and then vocals…too much fun! Finally this laptop is super lightweight and sleek, so you can easily bring it to any room for your practice. Your Video lesson from JamAlong will look amazingly clear and HiDef, and the Backing Tracks will sound amazing, making your practice sessions so much more fun. After you order your Apple MacBook Pro, be sure to get the accessories you need to maximize your music experience by setting up your "Jam Zone", see the graphic on our Live Lesson page. This is an investment you will enjoy for many long years to come…you deserve this!
Headphones
If you are going to be recording any music, having a live online music lesson at JamAlong, or even just wanting to listen to your music without disturbing your family, headphones are a must have. And since there is nothing more frustrating than trying to hear through a crappy head set, we did the research for you and the American Audio Studio Headphones are the best for the price, hands down.
The plush ear cushions deliver deliver superior sound-insulation and comfort, and swiveling ear-cups allow for you to have one ear free, which is very important when you need to hear your instrument and the audio (super important for live online music lessons). These headphones also come with adapters so you can use them with your computer, smart phone or iPad, and a carry case so you don't get them grubby. Make your music listening experience top notch, treat yourself to these quality headphones.
Portable Speaker
If you are using our Backing Tracks to jam along to (and you should be), this portable computer speaker will change your life! The sound is amazingly loud and crystal clear, and it will transform
your computer, tablet or cell phone into a full fledged stereo. We strongly recommend you get this and use it to play all of your practice music, it will make your playing sessions 1000 times more fun, and your timing will improve a hundred fold. With a rechargeable ion battery, both USB and 8th inch inputs, Bluetooth and built-in speakerphone with noise and echo canceling, the JBL Flip4 Portable speaker is the best toy you'll ever buy. Get one now and power-boost your jamming!

USB (computer) Mic
We've finally found the ultimate computer mic, and this is it! Get crystal clear sound for recording on your desktop, laptop, iPad or smartphone with the BLUE Yeti Studio Microphone.
If you are doing home recording this mic will give you studio quality sound, and it works amazingly when used with an iPad and Garage Band software (which comes for free on the iPad Mini featured above).  And when you have a live online music lesson with your JamAlong instructor, you will sound 100 times better than just using your built-in computer mic (which sucks!)
Once you start to learn how to make your own recordings you will have more fun than a monkey with a peanut machine, and best of all we will give you FREE instruction on how to use this mic, and Garage Band, with live video call sessions.
Take your music to the next level, start recording!
USB Mini Mic
For those of you not wanting to step to the level of the BLUE Yeti Studio Microphone (above), then you want this awesome mini-mic for sure. Plugging easily into any USB port on your laptop, tablet or desktop PC, the CAD U9 Mini Mic features a 180 degree swivel and a frequency response of 50Hz – 18kHz (meaning you can record anything!).
If you are doing any sort of recording form your computer, or video calls with Skype or Zoom (like our JamAlong Live Lessons for example), then you definitely want to have this USB mic plugged in.
Digital Recorder
We've come a long ways from the tape recorder, and now you can carry a device smaller than your cell phone that will record half a day of music, easy. And the new generation of digital recorders like the Zoom H1n Handy Recorder are equipped with two stereo microphones, and can run for ten hours storing 2 GB of music. Store your recordings on your computer with the high speed USB 2.0 port, and you've got the ultimate recording device. This digital recorder is great for recording rehearsals, concerts, or hot solos at jam sessions so you can figure out all the hot licks later. Never lose a priceless musical moment again with the Zoom H1.
Compact Digital Projector
The ultimate tool for all music teachers, jam leaders and music video enthusiasts, this compact, high-performance projector is small enough to fit into your pocket or purse, and features both Bluetooth and Wi-Fi capabilities! You can connect a variety of sources to the projector with the HDMI cable, but the beauty of this tiny marvel is that it wirelessly connects your mobile smart devices for total freedom and flexibility. Thanks to its built-in rechargeable lithium-ion battery the Kickstand MICRO Projector is a wireless wonder that opens up a whole new world of projection possibilities, and features a patented stand design making it easy to use: simply kick out the leg, stand it up, and turn it on. Whether you are streaming Netflix or Hulu in your home theater, or
leading song-alongs with chords and lyrics for all to see, this h-tech marvel will change the way you interact with music…(and be sure to ask about becoming a JamAlong Jam Facilitator and getting a huge deal on this item)
"Guitar Pro" Music Writing Software
All of the music notation and TAB in our lessons? How do we make it look so pro? Guitar Pro! Now you too can type music notes into your computer and print out professional sheet music, and it's easy. This amazing program note only allows you to compose and print out standard notation, but also does TAB for guitar, banjo, mandolin, dobro, fiddle, bass and much more. All you do is just use your number keys to type in your TAB (strings and frets), and the music notation is automatically added (even if you don't read a lick of music). And if that wasn't cool enough, Guitar Pro also lets you add chord charts, use neck graphs to choose your notes, and play back your music so you can hear every note. Finally, this program is also a "multi track" composer, meaning you can ad in multiple instruments and then play or print out the entire band score. So for example you could have all the parts for a full band written out like an orchestra score!
And on top of all this, when you purchase Guitar Pro software with JamAlong, you get a FREE online lesson where we go through the program with you and show you how to use it. So if you compose, teach, or just want to see your fancy breaks tabbed out, then this program is for you. We use it everyday here at JamAlong.
"Mix Craft" Multi-track Recording Software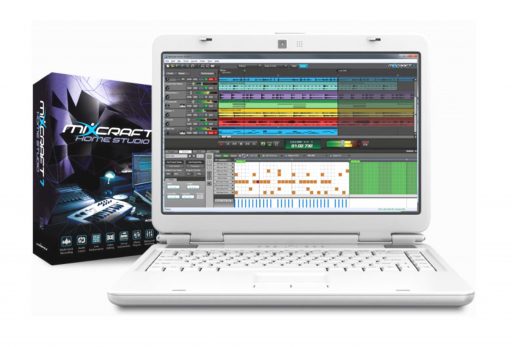 When you get to the level where you want to make "real" albums, or record multiple instruments and vocal harmonies in high definition audio, then this is the program for you. Here at JamAlong we use it for all our audio recordings, as well as studio CD's and our Backing Tracks that you enjoy jamming along with. This is the next step up from Garage Band, but nowhere near as complicated and pricey as other programs like Pro Tolls or Cubase.
With Acoustica Mixcraft Pro Studio you can record professional quality albums, using all the fancy effects like reverb, chorus, and EQ that give you that sparkly "radio ready" sound. And Mixcraft also comes with a huge library of "samples", or pre-recorded sounds like drum beats and bass lines, so you can create full band sounds with the click of a mouse. It also features "Virtual Instruments" where you can use your computer keypad to pluck strings and compose rhythms, with amazingly lifelike sounds for acoustic and electric bass, drums, piano, and many more.
This program is surprisingly easy to use, and of course with your purchase you get a FREE online lesson where we go through the program with you and get you recording like a pro. We use it daily here at JamAlong, so we're always available for a phone call whenever you have a question. Lean multi-track recording and transform your music!