JamAlong eLessons consists of a thorough video, PDF charts (TAB & notation), and mp3 audio files (backing tracks, etc). The videos go over the song or technique note-for-note in a Talk Thru section, and then plays through slowly in the Play Thru section. Both of these sections feature "live" TAB and notation, which plays along with the hand shots in real time. Also included in your JamALong eLesson are PDF charts for the TAB, notation and any additional instructional material needed, as well as Audio Files (mp3) to practice along with as well.
Our videos are between 25 and 40 minutes long, and will be placed on your own personal "My Lessons" page when you purchase them or becomes a subscriber.
Please make sure to have the additional TAB and charts (PDF's) either printed out or view-able alongside your video, we recommend printing them and creating a binder to have on a music stand next to your computer (or tablet, Smartphone, etc).
Remember, we pack a ton of information into our videos, so be sure to use "rewind" frequently to get as much time as you need on each part (yes, we know that in this digital age there is no real "re-winding" going on, but you know what we mean!).
Now, the real cool part about JamAlong is that you can add any lesson you purchase to your own "member page", so you can create your own lesson library of all the things you are working on! Just click on the blue "add to my lessons" button under the video screen, and the lesson will appear magically on your member page (get to your member page by clicking the "my lessons" menu on the top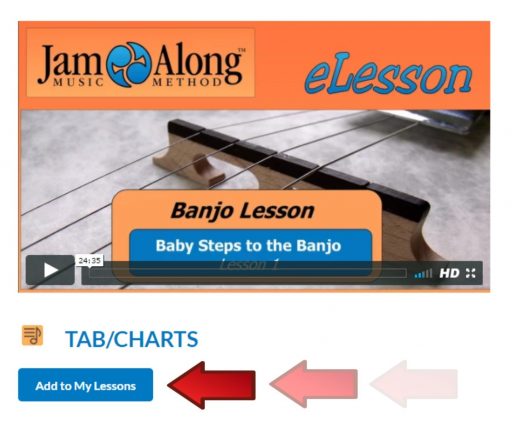 of the screen, after you are logged in of course).
When you are on your member page you will see all of your lessons in a neat row, as well as any notes between you and your instructor at the bottom area. This is your personal "Jam Area", where you can work on your pre-selected lessons, jam along with our backing tracks, and have fun getting to be a better player.
Of course you will need to purchase a lesson before you can add it to your page, or you can commit to a basic subscription and get access to every lesson on the site! That way you can pick and choose from all of our JamAlong lessons and add as many as you want to your page, creating an awesome custom library for yourself. To get signed up visit our Subscription Page, you won't regret it, it's pretty much the best deal going.