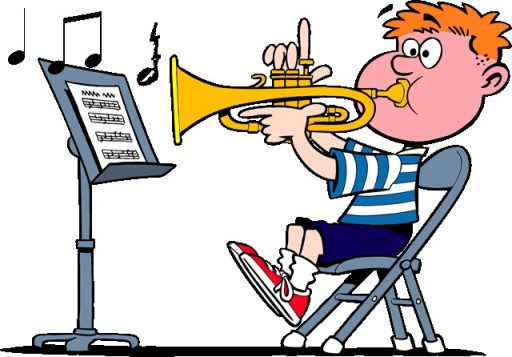 Practice does not make perfect…only proper practice does! Yep, it's true. You can practice all you want, but unless you are doing it the right way, you will not see much results. Knowing what to practice is not as important as knowing how to practice, and no matter what musical instrument you are learning to play, these savvy practice tips will help you to triple the results of your practice sessions…
1 – Your Jam Zone
First of all, have your practice area set up nicely. They say "practice makes perfect", but in actuality it's more like "effective practice makes perfect", and to be effective you need to be organized. When you sit down to play, you want to have everything you need right at your fingertips, so you don't spend valuable practice-time looking for stuff! To see our guide for all the things you'll want in your "Jam Zone" visit our Live Lesson page HERE, and scroll down to "Setting Up Your Jam Zone".
2 – JamAlong Binder
To be a good student, be studious: have your paperwork in order! This means that whatever music you are currently working on, really should be printed out and kept in a binder. This way you can have it on your music stand in your Jam Zone, and bring it to any jams or group classes you may attend. So for you JamAlong students, print out the PDF materials under your video lessons and file them in your binder. This way you'll have what you need, when you need it.
3 – Make a Schedule
Get your practice sessions on calendar! This is an often overlooked but critical element of effective practice habits. Pick out at least twice a week when you can commit to an hour or so with your music, and then put in on the calendar! Truth is, even once a week for fifteen minutes is better than never at all. Try to plan times that you will not be too exhausted or stressed, like a Sunday late morning, or even a lunch break at work a couple times a week. We have found a lot of success with practice schedules that are placed on the refrigerator for all to see, or even next to the bathroom mirror. Whatever it takes, right? And while you're at it, why not learn to use some kind of electronic calendar as well, so you can set up reminders? Read on…
4 – Use Reminders
As much as you mean to show up and play at your scheduled time, we all know how crafty life is at distracting us. "Life is what happens while you're busy making other plans" as John Lennon said! So learn to use automatic reminders to jog your memory, and there are all sorts of options nowadays. Anyone who uses Google Calendars knows how easy and convenient these reminders are, just add your practice to the calendar on a recurring basis, and then set a reminder for like an hour before. There are also lots of apps that do the same thing, check out Any.Do, To Do Reminder or Wunderlist for starters.
5 – Get an "Enforcer" 
Enforcer? Yes, we know that word sounds scary, and if you want you can use a more dolphin-safe term like "support person" or "assistant". But the idea here is to have someone in your life who reminds you to practice. It can be a spouse, roommate, or even your kids, but this needs to be someone in your household who is on board with helping you to learn to play. Show them your JamAlong practice schedule that you have on the fridge door, and ask them to help you by reminding you whenever they can. You'll be surprised how much fun they will have pestering you about practice 🙂
6 – Play along with something!
Make sure you are using a timekeeper, and playing the piece you are working on with proper timing! Timing is more important than just about any other element of music, especially in "jam oriented musics" where you will need to play the piece with others. Although a metronome is the old standby, we urge you to try using "backing tracks" instead. This means finding a pre-recorded track that has accompaniment for whatever song you are practicing, and playing along with it! Soooo much more fun than a metronome, and more enjoyable for your loved ones as well. We have a great library of backing tracks at JamAlong Music, and we also make custom backing tracks to order so you can get one made for any song you are working on! Visit our Backing Track library for more, and if you become a JamAlong subscriber you get all this for free!
7 – Use "Chunking"
"Chunking" is a trendy term for breaking up the piece you are working on into smaller sections, like a measure or two at a time, and then learning them one by one. The trick here is to make sure that you actually memorize each chunk, before moving on to the next. So that way you are not only learning the piece, but memorizing it at the same time! How long each chunk should be is totally up to you, but the recommended length is like two or four measures. After you get several chunks strung together, then test your memory on what you have already (see #8)
8 – "Test Drive" your memory
Every now and then put aside the sheet music or TAB and try to "test drive" the song as far as you can just by memory. This is a great way to boost your memory skills, and also to make sure that you are playing the piece correctly when you don't have the music in front of you. (for more on improving your musical memory see our blog HERE)
9 – Stay Slow
Stay slow as long as you can! Never forget that accuracy is more important than speed, and if you play too fast too soon you will develop bad habits and lose accuracy (and our backing tracks help with this because once you pick a slower tempo, they will force you to keep it!). Always remember, slow and clean is better then fast and sloppy.
10 – Short Sessions
It is better to have several shorter practice sessions than one long one, as brain fatigue can set in if you try to force yourself to play longer than is comfortable. Research has shown that a practice session comprised of three ten minute blocks is actually more effective than going for a whole hour non-stop, and is also more enjoyable. When you push yourself for too long, not only will you risk burnout, but you'll form negative associations with the piece, as well as practicing in general. Not good. The more fun you can have while practicing, the more you'll do it, so that's a win-win!
11 – Have "Recitals"
It is no secret that performing artists use upcoming shows as a motive for practice, and you can too. The good news is, you don't have to play a show to do this, all you need to do is have something on calendar. This can be as simple as scheduling time to play on a park bench, or for a friend. One of the time-honored methods used by music teachers is the recital, when students have to play a challenging piece in front of their instructor. At JamAlong we use Live Video Lessons to allow students to perform their piece for us, and it works amazingly well. With a JamAlong video-recital you can be in the comfort of your own home with your cat next to you on the couch, and still get all the benefit of a real-life recital. Book a Live Video lesson now on our page HERE, or call us for more details (530) 566-3629
12 – Take lessons with JamAlong!
Really the best way to get more of of your practice time is to have a music coach to help you every step of the way, and that's what you get when you become a Ninja Subscriber here at JamAlong. With our Ninja Level subscription you will not only  get access to all of the lessons on the JamAlong website, but you can also order custom-made lessons on whatever you want and we make them for you on the spot! And on top of all this, you get to have a one-on-one every month with your JamAlong instructor over live video feed. These Live Video Lessons are amazing, you can jam back and forth just like in real life, and ask as many questions as you want. The lesson can also be recorded and sent to you so you can have as much time as you need to go over the material, and we will even TAB out anything in the lesson that you want. You will not find a program that offers this much anywhere else, so what are you waiting for, take your playing to the next level now and get started with JamAlong!